In talking to first-time homebuyers I find that there are often misconceptions about what it takes to qualify for a mortgage loan and how large a down payment is needed, and confusion about the process of getting a new mortgage loan. Reading and talking to other agents reinforces that conclusion. In this post I hope to provide some basic information that will be helpful, and that may help some prospective buyers compare their alternatives.
For most borrowers the primary mortgage loan products will be of only two types: Conventional or FHA. One of the misconceptions I mentioned above is that it is getting a loan requires a large down payment, but there are very low down payment options available – 3%-down Conventional and 3.5%-down FHA loans, for example.
For this discussion I have used the same assumptions for every example that I'll share:
$335,000 purchase price (the median price in the Austin metro area in May 2019)
4% interest rate (although there will be variations based on the specific loan type and the lender)
2.5% annual property tax rate (a decent average for the Austin metro area, but make sure you know your reality when you narrow down your target areas. In the city of Austin you'll find rates as low as 2.15% and in some suburbs you'll see rates above 3%.)
Annual hazard insurance premium at 0.5% of the purchase price (probably high, but I would rather you get a positive surprise instead of a negative one when you actually shop).
For the calculations that follow I used a great tool called Austin Title Agent, which provides other estimated prepaid expenses and closing costs.
Here are some details of the low down payment loans I mentioned above: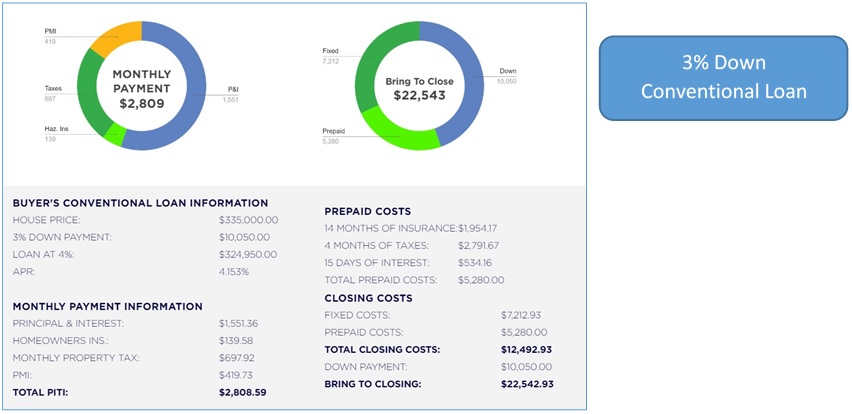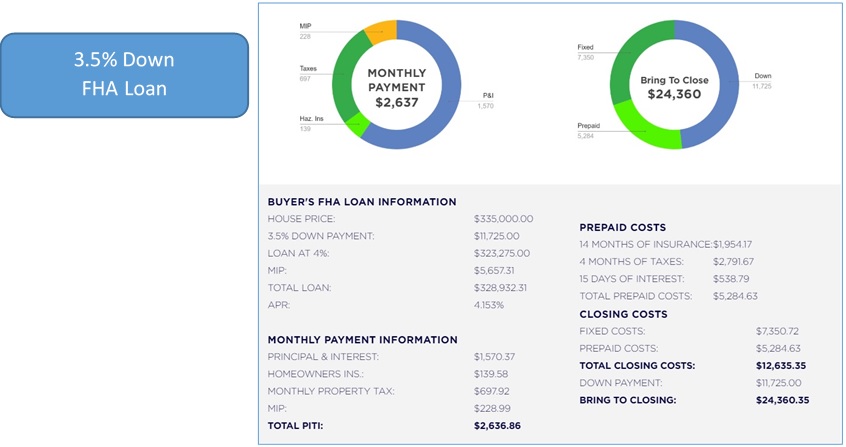 There are a few acronyms to define here:
"PITI" means Principal, Interest, Taxes, and Insurance – the total monthly payment. Most online loan calculators only show P&I – Principal and Interest – so don't get excited too soon in your consideration. In addition, notice that the Monthly Payment Information for the Conventional loan includes
"PMI" – Private Mortgage Insurance. As long as you owe more than 80% of the appraised value of the property PMI will be part of your payment, but it can be removed as you gain equity through your payments and through value appreciation during your time of ownership.
"MIP" – Mortgage Insurance Premium. This serves the same purpose as PMI but is calculated differently and with a minimum down payment will be lower than PMI. You can't outrun MIP on an FHA loan, however. It is part of your payment as long as you have an FHA loan. You can remove it by refinancing when you have enough equity.
"Prepaid Costs" – With a low down payment your loan will include an "escrow" or "impound" account where part of every month's payment will accumulate so your lender can pay property taxes and hazard insurance for you when they're due. These costs at closing partially load that account in advance so there won't be a shortage when those bills are due.
"Fixed Costs" – These are specific fees established by the mortgage lender and the title company. As a buyer/borrower, most of your costs are charged by the lender so make sure you understand those fees in advance.
If you qualify, another low (or zero) down payment loan you should consider is backed by the U.S. Dept. of Veterans Affairs. This example applies the same assumptions I outlined in the beginning: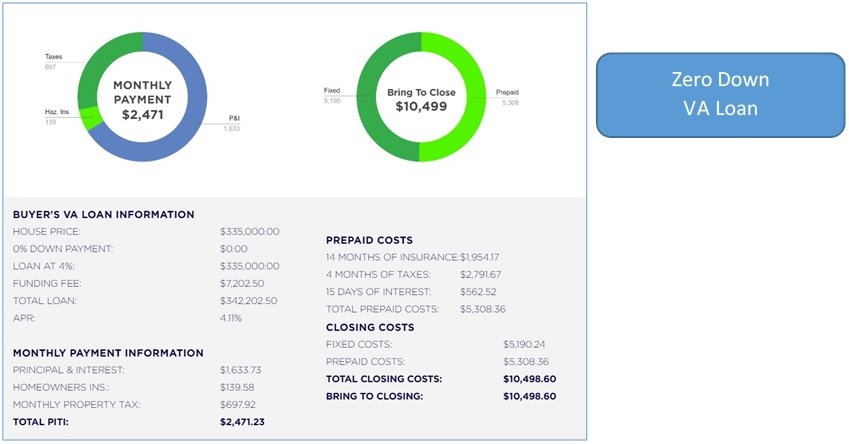 There is no line item for mortgage insurance in those calculations, but there is a VA Funding Fee, which is a percentage of the loan that varies depending on the specifics of your loan and your military category. There is a lot of great information available at https://www.va.gov/housing-assistance/.
Now, if you are willing and able to bring more cash to your purchase, here are some examples of how that can affect your costs and payment: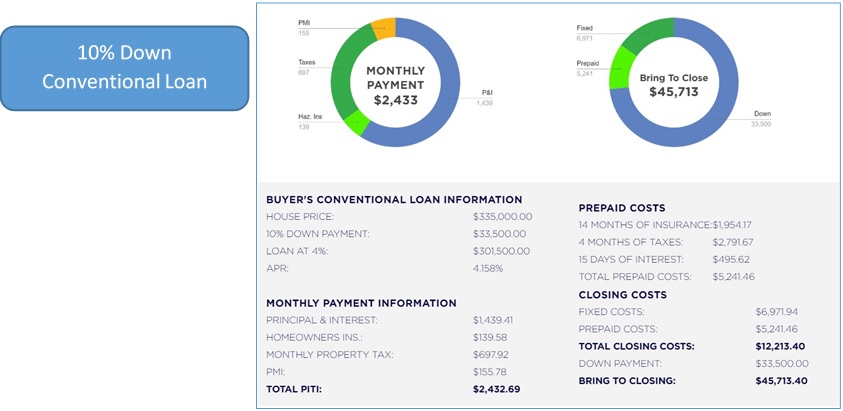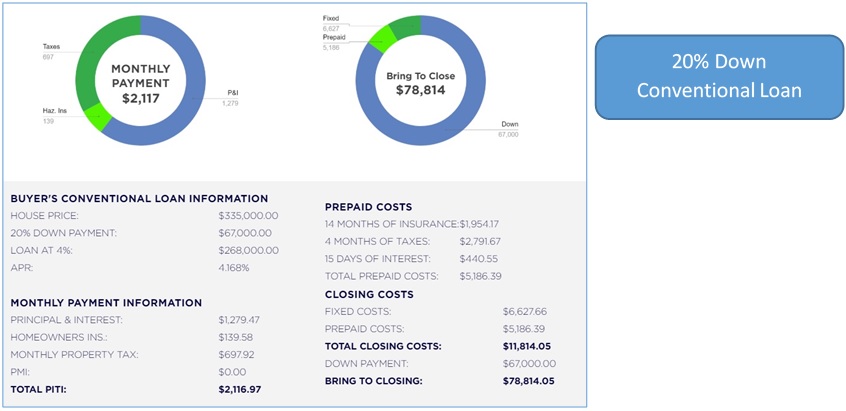 Note that the PMI line item in the 10% down payment scenario is about $156 per month versus $420 in the 3% down payment example earlier in this post, and the total monthly payment is almost $400 lower. With a 20% down payment it is $0, and the total payment is lower by almost $700.
There are other types of loans available and a lot of details and nuances that your mortgage lender will discuss with you, but please let me know if you have any questions about the information provided here. I will be happy to help.