How GREEN are you?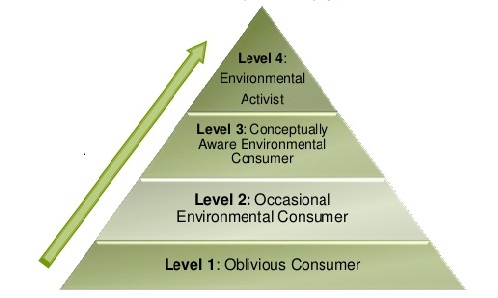 If you're reading this page, the odds are that you are somewhere above Level 1 in that pyramid, but probably below Level 4 as well. Being GREEN isn't an "all or nothing" decision, though. Choose what's important to you, what you can do, how you can do it, and how much time or money you're willing and able to invest. Any step is better than none.
GREEN is popular these days, and thinking of the environment and a sustainable future are important. GREEN means different things to different people, however. Consider your priorities as you think of greening your home and your lifestyle. Here are some categories to think about:
Conservation is an important strategy, and an easy step for most. This category can include everything from reusable shopping bags and household recycling to reducing product packaging. "Reduce, Reuse, Recycle" is one of the most widely recognized approaches to sustainable living.
Energy usage -- and especially utility expenses -- are the focus of many who "go green" around the house.
Water is a vitally important part of life for all of us, and it is in very short supply in much of the United States, and in most of Texas. There are a variety of steps that can allow us to make much better use of this very limited resource.
Transportation can make a real difference for many -- fuel efficient vehicles, public transportation and other alternatives, and even telecommuting as an alternative to daily transportation.
Outdoor air quality is most often associated with energy production and transportation, but there are steps most of us can take.
Indoor air quality is even more important to some, especially those with unusual chemical sensitivities.
Organic and Natural products are more available than they once were, so you may choose to incorporate them into your lifestyle.
Sustainable practices in farming and ranching and foresting, among other fields, have gotten a lot of attention and may be part of what you choose to prioritize as you make your daily choices.
Renewable resources are increasingly identifiable and available, and can be an easy way to make an impact on our sustainable future.
Beyond taking action in your personal life, some may choose to go further. For example, you can volunteer with a local club or nonprofit that works on environmental or sustainability issues, or just get involved in your neighborhood. If you like writing, blog. If you're more serious, there are many ways to get involved politically.
The point is: Your level of commitment is your decision. I'll post resources and ideas here from time to time, so check back when you have a minute, or just give me a call and let's talk about your "green home" plans.